Binders & Index Tabs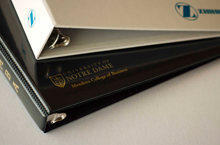 If you're organizing with binders, we can help you get it all together. We can design and print your binder covers, as well as print, compile and organize index tabs. Or take it another step and let us print, collate and bind all your materials.
For the very best presentation, have us create a complete custom binder just for you.
From small tasks to large projects, we're here to help. Give us a call today.