Posters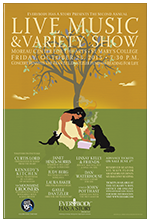 Posters may be produced in many different sizes and on many substrates.
Ink-jet roll-fed output is available in widths from 44" and lengths up to 10' on either gloss or satin coated white stock.
Digital press technology is available for posters (lithos) up to 14.33" wide by 26" tall. These posters may be UV coated if desired. Unlike most digital devices, our digital press can produce an oversize print on a press sheet up to 14.33 x 26 inches. Your bulletin board promotions will literally dwarf the messages of your fellow posters. Because it is digital print, it is affordable to order very small quantities
Offset technology is available for longer print runs producing sizes up to 26" wide and up to 39" in length. Theses items may be aqueous coated if desired.
Is your poster really a banner? We can produce short-run poster/banners 8' (feet) wide by 10' (feet) long. Contact us today for all your needs.