Comic Info / Templates
---
All our templates may be opened in either Illustrator or Photoshop. They can also be placed in most desktop publishing programs. Please remember to keep these templates on their own layer so that they can be deleted or turned off before saving your final files. Click on the template links below to open or save to your computer.
---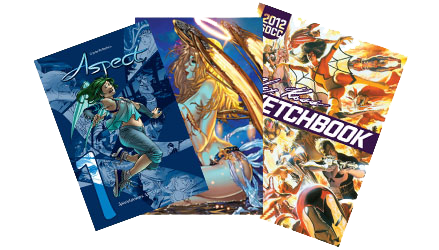 Standard comic page size
Trim: 6.625 x 10.25"
Bleed: 6.875 x 10.5"
Live Area: 6.125 x 9.75"
Margins: Top: .25" all sides
Manga page size
Trim: 5.5 x 7.75"
Bleed: 5.75 x 8"
Live Area: 5 x 7.25"
Margins: Top: .25"
Magazine page size
Trim: 8.25 x 10.75"
Bleed: 8.5 x 11"
Live Area: 7.75 x 10.25"
Margins: Top: .25"
File Specifications:
File Resolution
All files should be a minimum of 300 dpi for both full color files as well as grayscale and black & white.
Document Size
Images should be the size that the comic is intended to be with the addition of the bleed amount (see the bleed size on our templates).
Common File Issues
• Low Resolution Images
• File size not correct for size ordered
• Bleed not included in final file
1) Refer to our templates to ensure proper file size and bleed set-up.
2) You may be subject to file correction charges.
3) You will be contacted by us and given an opportunity to fix and re-submit your files in the proper size/dpi/bleed to avoid the file correction charges
Proofs
Customers will all be provided with either a Digital Proof (a PDF) or a Physical Proof (a hard copy) of their comic book order. Digital Proofs are free of charge, but Physical proofs will be charged for based upon page count, size and shipping costs. Lithos/Prints/Posters will not receive proofs unless requested. Digital Proofs (a PDF) are free of charge, a Physical Proof (hard copy) will be charged for based upon number of prints, size and shipping costs.
Once a proof is presented to the customer, any changes that need to be made to the files will be subject to a minimum $25.00 alterations charge.